Duck Identification Part 1: Dabblers vs. divers and using flight details, size and shape to identify ducks

by M.D. Johnson, outdoor writer & photographer

Knowing the rules is part of any game. Wanna play baseball? You have to know the rules. Darts? Pretty important to know what you can and cannot do. Duck hunting? No different.
In the world of the waterfowler, knowing the rules is a critical part of the equation. You need the proper paperwork, including a federal duck stamp. You must use federally approved, non-toxic shot and a shotgun plugged to hold no more than three shotshells. You can only hunt between a half hour before sunrise until sunset. And that's just the beginning.
Daily bag limits, too, are certainly part of the rules. For instance, you can shoot X number of birds per day, and of those, only Y can be mallards. And of those mallards, no more than Z can be hens. One pintail. Two bluebills. Three wood ducks. Two canvasbacks. On and on. The specifics often depend on your geographic location, as limits and details typically vary from flyway to flyway.
With all that in mind, you can see how important it is to know exactly what you're shooting before you shoot. To help make this process of duck identification a little easier, I've distilled telling this duck from that duck into a handful of different categories. 
This is the first in a two-part series on duck identification. In this first part, we'll go over the differences between dabblers and divers, plus how to use flight details as well as size and shape to better tell what kind of duck you're looking at. 

Dabblers vs. divers
There are two main families or groups of ducks found in the United States: The dabblers (aka the puddle ducks) and the divers (also called diving ducks). 
These are the dabblers:
Mallards

Black ducks

Pintails

Widgeon

Teal

Shovelers 

Gadwall. 
These are the divers:
Canvasbacks

Redheads

Bluebills/scaup

Goldeneyes

Bufflehead

Sea ducks (such as eiders, scoters, and long-tailed ducks)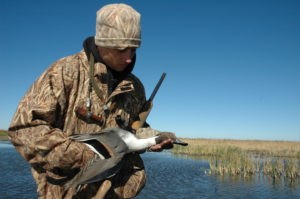 A list of dabbler characteristics would look like this: 
Flush vertically from the water

Legs set forward of the tail, mid-body, allowing them to easily walk on land 

Feed by tipping up (dabbling) rather than diving

Shallow water or riverine habitat, such as marshes, small lakes, ponds and swamps

Colorful and/or iridescent wing patches and speculums 

Tail held high when swimming

Moderate wingbeat 
A list of diver characteristics would look like this: 
Run along the surface of the water before taking off

Legs set back toward tail, allowing them to dive easily but makes walking tough

Feed by diving, sometimes to depths of 100 feet or more; commonly less than 20 feet

Traditionally make their habitat on big waters and large rivers such as the Great Lakes

Drab wing coloration

Tail slopes down into the water like the sides of a layout boat

Fast, rapid wingbeat
Size and shape
How big or small a duck appears at rest or in flight can be a qualifier. Here are some examples:
Green-wing teal, our smallest North American puddle duck, weighs less than a pound. These are about the size of a big mourning dove or male robin. 

Wood ducks and widgeon are each 1.5 pounds or so. These are slightly larger than ordinary city pigeons. 

Mallards and black ducks are big and robust in appearance.

Pintails are large, long and skinny. 

Divers might be described as "chunky." Canvasbacks have a long sloping bill, while redheads show a round, puffy head and an overall blocky look.

Bluebills are stocky, though not exceptionally big like mallards and blacks. These are comparable in size to widgeon.
Flight details
How a duck or flock of ducks moves in the air is yet another aid to identification. The key here is mainly to watch and learn, but here are some examples:
Teal dart this way and that. The flock flies, bobs and weaves almost as if they were one single lightning-fast unit. 

Mergansers will often fly in a straight line, one behind the other.

High-flying canvasbacks form a V. 

Buffleheads are like black-and-white hummingbirds — their wings almost a blur as they approach a spread low to the water. 

Mallards, gadwall and shovelers, unless they're up high and have a destination in mind, will appear somewhat disorganized, randomly milling about as they move from point A to point B. 

Wood ducks fly with their heads held high and bill pointed downward, flitting bat-like through the pin oaks. 
These are just a few of the details every good 'fowler needs to know to identify ducks and have a successful hunt. For more information on duck identification, including habitat, sound, silhouette and color, check out part two of this duck identification series. 
---
Meet M.D. Johnson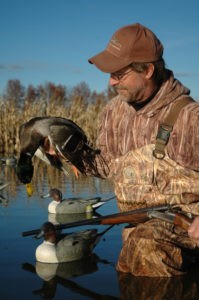 Originally from Ohio, M.D. Johnson, and his wife/business partner, Julia, spent 18 years in Iowa before relocating to her native Washington state in 2015. A full-time freelance outdoor writer since 1992, Johnson, with the photographic assistance of his wife, has authored and illustrated six full-length books, including three on waterfowl hunting. Today, The Johnsons reside in Wahkiakum County, where they both enjoy a 107-day duck season, salmon fishing, and everything the wonderful Pacific Northwest has to offer. Oh, and if you ask, M.D. will tell you he prefers 16 gauge doubles to anything else.
Read more from M.D. on Slayer's Blog:
– A hunter's guide to waterfowl guns and ammo
– Hunting gadwall ducks: Everything you need to know
– 9 things every new duck hunter REALLY needs: Resources and gear
– Why these waterfowlers love the cutdown call for duck hunting
– Beyond the quack: Learn the different duck sounds of common species
– Top 5 duck and goose decoy spreads you have to try