Smoked duck fat focaccia recipe
By Bri Van Scotter, Wilderness to Table
Impress your friends or partner with this deceptively simple recipe for smoked duck fat focaccia — one of the best ways I know of to put that delicious reserve of duck fat to good use.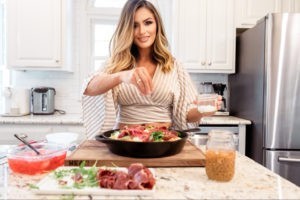 Focaccia is an Italian bread that's been adapted around the world. It's traditionally made with a generous amount of olive oil, which gives it flavor and texture. In the U.S., focaccia is commonly served alongside soups and pastas, sliced thin for sandwich bread, or topped with fresh ingredients. 
In our recipe, we'll be substituting duck fat for the olive oil to give the bread a unique flavor. We'll be topping the focaccia with duck prosciutto from your latest hunt, burrata cheese and arugula for fresh ingredients with complementary flavors. It makes for a great shareable appetizer or an indulgent meal for two.
You'll need a stand mixer with a dough hook to make the process a little easier. If you don't have a mixer and dough hook, you can still knead your dough the old-fashioned way. Roll up your sleeves, sprinkle flour across your work surface and use the heel of your hand to work the dough. Your goal is to activate the gluten so the bread is ready to hit the smoker. You know you've nailed it when you can stretch a small piece of dough so it's thin enough to see through, like a windowpane, without tearing.
After you've kneaded, the focaccia dough will need an hour in a warm spot to rise — what chefs call proofing the dough. Be sure to build in plenty of time so you don't rush the proofing process. You'll proof your bread twice: the first time for an hour, and the second time for 20 minutes. That'll make sure you get a good rise from the focaccia as it bakes, so you end up with a thick bread that's soft on the inside and slightly crispy on the outside.
For a classy drink pairing, check your local wine shop's selection of American wines. You're looking for a pinot noir from Willamette Valley, a wine-production hot spot in Oregon. Think of it as Napa Valley's little sister. Willamette Valley is protected from the coastal and desert climates on either side by a pair of mountain ranges, giving it the ideal climate for vineyards. They've been perfecting pinot noirs there for more than half a century.
Show us your focaccia! Tag @SlayerDuckCalls in photos of your culinary masterpiece on Instagram, or share your experience directly with the Slayer team.
Yield: 8 servings
Prep time: 20 minutes
Proof time: 1 hour 20 minutes
Cook time: 20 minutes

Ingredients for Slayer's smoked duck fat focaccia recipe
For the focaccia:
1 2/3 cup warm water (about 110°F)

2 teaspoons honey

1 0.25-ounce package active-dry yeast

2 cups all-purpose flour

1 1/2 cups cake flour

1/4 cup of melted duck fat, plus 2 tablespoons reserved

2 teaspoons kosher salt
For the toppings: 
Duck prosciutto

Burrata cheese, sliced

Arugula

Pickled red onions

Pickled mustard seeds

Balsamic vinegar

How to make smoked duck fat focaccia
To proof the yeast, first combine the water and honey in the bowl of a stand mixer. Then sprinkle the yeast on top of the water and give it a gentle stir. Let the yeast sit for 5-10 minutes or until the yeast is foamy.

Attach the dough hook to the mixer, then set the mixer to low speed. Gradually add the all-purpose flour, cake flour and duck fat. Increase the speed to medium-low, then add the salt. Let the dough knead for 5 minutes. If the dough is too sticky, add 2 tablespoons of cake flour.

Once the dough is kneaded, remove it from the bowl and gently knead into a ball. Grease a large mixing bowl with olive oil or cooking spray. Place the dough in the greased bowl and cover with a clean towel. Place the bowl in a warm location and let the dough rise for about 1 hour, or until it has doubled in size.

Turn the dough out onto a floured work surface and gently roll it out in a large circle. Then grease a large cast iron pan and place the dough inside. Cover the skillet with a clean towel to proof one more time, for about 20 minutes.

Preheat a smoker to 400°F.

Once the dough has finished proofing, place the uncovered skillet on the smoker. Smoke for 20 minutes.

Remove the skillet from the smoker, then immediately drizzle the reserved melted duck fat over the hot focaccia.

Add the toppings. Serve your focaccia warm.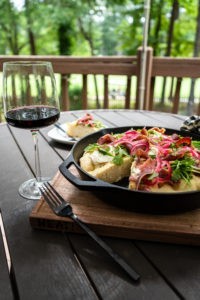 .   
---
Meet Bri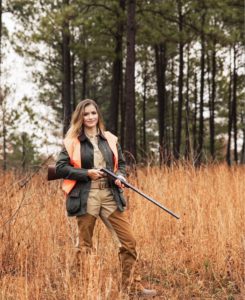 Bri Van Scotter is a professional Chef & Pastry Chef who turned into a hunter to source the purest proteins possible. She is creator of Wilderness to Table, a Television Host, Author and a hunter who is on a mission to prove there is more to wild game than grilling a backstrap!
Website: www.wildernesstotable.com
Instagram: @wildernesstotable