By Bill Ayer, Duck Slayer & CEO
Duck hunting in freezing temperatures and icy weather does not have to mean the end of hunting season for us. With preparation, the proper gear and safety precautions, hunting in these conditions can be extremely rewarding. 
Some duck hunters simply wait for foul weather and mild temperatures, throw out a decoy spread at the popular spots, and wait for the ducks to drop. But if you want to bring home the limit until the end of the hunting season, a little knowledge about weather and bird behavior will help you fine tune your scouting skills and increase your kills.
Hunters at any level can improve their opportunities for success by learning how birds behave in different types of weather to better predict where to find birds and improve your hunting techniques. Read up on our earlier pieces with intel and strategies for hunting in foul weather and on bluebird days, both of which can extend the length of your hunting season. 

How to make hunting in freezing, icy weather work for you
The obvious disadvantages of hunting in this type of weather are the frigid temperatures and harsh conditions that we have to overcome. However, because of the limited areas where they can feed, birds will be more condensed and easier to find. They tend to eat twice a day to keep up their caloric intake to maintain their fat levels, and their behaviors become more consistent. Understanding bird behavior in cold, icy weather and learning some duck hunting calls will give you a better chance of success.

Find water that isn't frozen yet
As with all weather conditions, you need to scout locations and learn where the ducks will be feeding. Once the lakes and rivers start to freeze over, birds find locations to feed where the water is still unfrozen. Your task is to know where these unfrozen water locations are. Look for warm-water sloughs, small creeks and river channels that are still flowing. 

Search out birds' food sources
Stay away from loafing areas, and instead find optimal food sources. These areas vary depending on location. For example, in Arkansas look for areas with plentiful acorn sources; in Idaho, find optimal food sources in dry corn fields; in California, look for flooded rice fields. 
Areas with optimal food sources may be limited when the temps start to drop. However, that's good news for us hunters: Birds become concentrated in these limited areas. Once we flush them out, we can set up our blind and our spread knowing they'll return to the same location. I've found the maps on the onX app helpful for pinpointing possible hunting locations and marking my spots.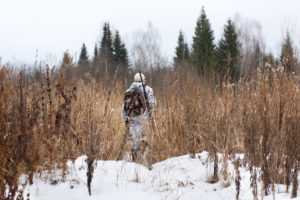 Adjust your hunting times to ducks' feeding times
As long as there's food available, birds stay in an area as the temperature drops. Their down feathers and fat keep them warm. However, the birds' behavior changes. The cold temperatures require birds to increase their caloric intake. They may start to feed twice a day. They also tend to wait later in the day to feed, when the sun has loosened the frozen ground, making it easier to get to their food. In addition to morning feedings, look for movement later in the afternoon.

Suit up in quality gear
The key to staying warm when hunting in frigid temperatures is having good gear. Too many products fail in the field and don't hold up to their promise. From 40 years of trial and error, we've found a "system" that works for to keep warm and safe:
Wool base layers and a waterproof shell.

Closest to your body, wear wool, then a layer of down, then a waterproof outer shell. Wool is the only material that keeps you warm even when it's wet. You can still work up a sweat in sub-zero conditions, when putting out decoys or walking from location to location. Wool wicks the sweat away, dries quickly and keeps you warm in very cold conditions.

When we're hunting with temps in the single digits, our gear of choice is Patagonia's thin wool leggings and long-sleeve top, a wool Filson sweater, Kryptek's super thin, lightweight Cirius Down Jacket, and the Kryptek Aegis shell for a waterproof outer layer.

Quality waders for warm feet.

Don't skimp on your feet. For waders, we suggest Frogg Togg Grand Refuge, which has a 1,200-gram Thinsolate boot. Back up your waders with wool socks. If your feet get cold, you get cold.

Wool headgear to keep in the heat.

Keeping your head warm is also important. If you've got the rest of your body covered but no hat, you'll lose body heat through your head. Trap that heat with a wool beanie or cap.
This system costs roughly $1,400, but it's a valuable investment. If you're spending 70 days out in the field each year hunting ducks and geese like us, being comfortable and warm while hunting is worth every penny.
Hypothermia is a real concern in these elements, especially if you get wet and you're a long walk or boat ride back to the truck. Invest in good gear, take care of it, and it'll last you a very long time.

How to call ducks into range on freezing days
On freezing days, you want your call to mimic the sound of ducks feeding. It's also important to remember that your spit in the duck call will freeze the reeds together. There's no way to avoid this, although the Drake Slayer Single-Reed can help. 
When hunting in freezing temperatures, I always bring four calls and keep three in my warm pocket. When the one I'm using begins to freeze, I switch it out with a warm call and repeat throughout the day. Another trick is to dribble at least 85-proof alcohol into your call. Due to its very high freezing point, it helps delay the reeds from sticking.

Use birds' eating habits and more consistent routines to slay 'em in freezing weather
The harsh conditions may not be for every hunter, but if you are up for the challenge, you can take advantage of the benefits the extreme cold brings. The birds are condensed into fewer locations, making it easier to pinpoint where to find them. They tend to feed twice a day or later in the day, and they're more responsive to your feeding calls.
Read part 1: How to hunt in stormy, foul weather
Read part 2: How to hunt on bluebird days