Julie's Grand Slam: Four wild turkeys in one spring season
Written by M.D. Johnson
Four birds, four shells, four states, 20 days. 
To anyone familiar with the Grand Slam, an event in which a hunter harvests one of each of the United States' four wild turkey subspecies during the course of a single spring season, these eight words boggle the mind. But for Washington native Julie McClellan, they became reality in the spring of 1998.
An outdoor photographer, McClellan moved to Iowa in July 1997 with a long history of outdoor appreciation. But her turkey hunting education actually began in the fall of 1993. 
"It was more of a scouting mission than anything else. I'd hunted deer in that part of the state all my life and had heard people talk about wild turkeys being up there, but had never seen any myself, let alone hunted them," said McClellan.
Fast-forward to spring 1994 where, while hunting the same part of the state, McClellan tagged her first gobbler — a Merriam's. But the story of McClellan's first gobbler doesn't end there. Upon reaching the bird, the huntress and her partner discovered that the tom had not one beard, but five. 
"Hearing the first gobble out there in the woods was probably the most exciting thing I've done. As for the five beards, I was shocked. Up to that point, I'd never even heard of birds having multiple beards, let alone five," she said.
Joining the Grand Slam: Julie's choice to go big
The first question a Slammer is often asked qualifies as both easy and challenging: Why? Why chase these birds all over the country, losing countless hours of sleep and living on coffee and Little Debbie snack cakes for days at a time? Why?
"To be honest," McClellan admitted, "I never gave the Grand Slam a thought. Didn't know it was a 'thing' until M.D. — he's the one who introduced me to turkey hunting in Washington — started talking about it. The more he described the different birds and the wonderful places they called home," she continued, "well, I decided that that was something I'd like to do. To test myself as a hunter and an outdoors person." 
So when the opportunity to join a group of outdoor writers and photographers on a quest for the Grand Slam was presented, it didn't take McClellan long to jump onboard. "And then," she chuckled, "it was off to Walmart for mosquito repellent." Next stop — Florida.
FLORIDA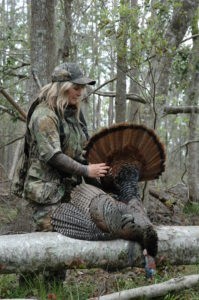 As is the case in many Grand Slam attempts, McClellan's journey began in central Florida. Her base camp for this portion of the hunt would be Adams Ranch. 
Located a short drive south of Orlando, near the town of Kenansville, Adams Ranch supports a fine population of Osceola gobblers. 
But good numbers of birds don't always mean a notched tag. In fact, McClellan and  her partner — the late Steve Puppe, a Minnesota native — had to resort to late-season tactics to take their longbeard. 
"Florida was tough because it was early in the season, and the birds were still somewhat bunched and not very aggressive. Patience became one of the most important aspects to success with these birds that obviously weren't running to the call. The key here was a less aggressive approach. Our tactic — all two hours of it — was soft clucks and purrs. And when the birds — two adult gobblers — showed up, they did so without ever making a sound," said McClellan.
Two days into her Florida hunt, McClellan wrapped her tag around her first Osceola gobbler — a fine bird that weighed 18 pounds and sported a 10.5-inch beard.  
TEXAS
The first week of April arrived, and McClellan and her teammate, Alex Rutledge of Birch Tree, Missouri, found themselves near Dilley, Texas — a small town southwest of San Antonio. 
"Patterning was the key to success here," said McClellan. "Roosting the birds in the evening and learning their travel routes in the morning was very important. Water was limited during this drought period, and any sources of water provided valuable information as to how and when these birds moved from place to place."
McClellan and Rutledge used this knowledge to their advantage when, on the third day of the hunt, they teamed up to take McClellan's second Slam gobbler — a loud-mouthed jake that weighed 16 pounds. 

IOWA
April 13 — opening day of Iowa's first turkey season. 
McClellan was 30 minutes into her hunt when she spied a small group of birds at the top of the field. Shortly after, two jakes began parading not 20 yards away. One hundred yards behind them, however, a trio of longbeards were making a slow, cautious approach to the decoy set-up. 
"I used a jake and two hen decoys arranged face-to-face, as though the jake were eagerly interacting with the hens," said McClellan. "I also stopped calling as soon as I felt the first birds had seen the decoys."
McClellan watched as the first two jakes came directly to the jake decoy but stayed 10 or so yards off from the plastics, cautious of the adult birds behind them. The three mature gobblers circled and came to the hen side of the decoy set-up. As the adult birds approached, the largest took the lead and began aggressively purring and making a show of dominance to the other two and to the jakes. This put him at about 28 steps. 
"Close enough," said McClellan.
McClellan's Hawkeye State gobbler would be memorable on several levels. On a digital meat scale, her huge Eastern weighed 27.2 pounds and carried an astonishing 12.5-inch beard — a trophy in anyone's ledger. 

SOUTH DAKOTA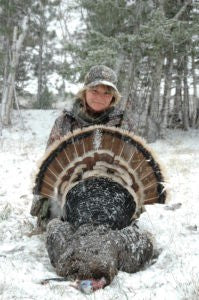 McClellan's fourth and final stop on this Grand Slam turkey tour was in western South Dakota. The Black Hills region of South Dakota has long been recognized as one of the country's premier turkey hunting locations, and during the spring of 1998, the Hills certainly didn't disappoint. 
"This was a big, big piece of ground. And we had to move and call, or run-and-gun, until we received a response," she said. "Too, because of the terrain there in the Black Hills, we needed to use high-pitched, clear calls that would reach out and touch these birds, whether they were across the canyon on the next ridge or down in the bottom. Call selection was very important." 
McClellan and her partner used these same calls once the birds got in closer, though they tuned them down drastically in volume and intensity.
On April 15, McClellan placed her tag on wild turkey No. 4 — a Merriam's longbeard weighing 18 pounds and toting a 10.5-inch brush.

Epilogue
While most turkey hunters would take a well-deserved vacation after tagging the Grand Slam in 20 days, McClellan isn't most turkey hunters. 
On May 8, she traveled to western Iowa, where she notched yet another Eastern — this one a 24.5-pounder with an 11-inch beard. And during late October, she would take yet another Eastern on a fall hunt in the southeast corner of Linn County, Iowa, just minutes north of her home. Is enough ever going to be enough?
"I can remember thinking that bugling in a bull elk during Washington's archery season was the ultimate challenge, the ultimate thrill. That was before I was introduced to turkey hunting. Now the challenge is to stay sane from one spring to the next, waiting until opening day. That's tough," said McClellan.
Meet M.D. Johnson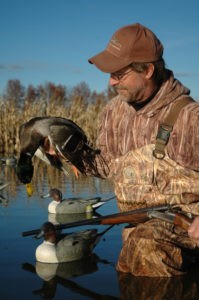 Originally from Ohio, M.D. Johnson, and his wife/business partner, Julia, spent 18 years in Iowa before relocating to her native Washington state in 2015. A full-time freelance outdoor writer since 1992, Johnson, with the photographic assistance of his wife, has authored and illustrated six full-length books, including three on waterfowl hunting. Today, The Johnsons reside in Wahkiakum County, where they both enjoy a 107-day duck season, salmon fishing, and everything the wonderful Pacific Northwest has to offer. Oh, and if you ask, M.D. will tell you he prefers 16 gauge doubles to anything else.
Read more about turkey hunting from M.D. on Slayer's Blog: