Hey, y'all! This is Allie from Miss Allie's Kitchen, and I've rustled up a delicious duck taco recipe for you to try this hunting season.
I grew up on a Pennsylvania farm with real, home-cooked food. Whipping up amazing meals from the wild game my husband brings home has become a full-time obsession for me. That's why I'm excited about creating recipes especially for Slayer Duck Calls' hunting community.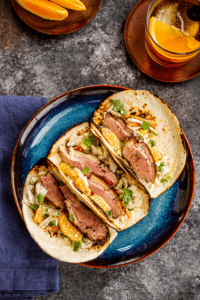 These duck tacos bring a bright citrus marinade together with the flavor of the wild duck. We pull that citrus flavor through with a creamy orange cabbage slaw to top the tacos instead of traditional toppings like lettuce, tomato and cheese.
Just because you're eating a taco doesn't mean you want to jump straight to a tequila pairing. With this duck taco recipe, I suggest grabbing a bottle of bourbon to make my classic Old-Fashioned. Buffalo Trace, Wild Turkey Rare Breed, Four Roses Small Batch and Maker's Mark Bourbon Whiskey are all great options based on the tasting notes.
If you try these duck tacos with orange and cabbage slaw, let us know what you think! Tag @SlayerDuckCalls in your photos on Instagram, or share your experience directly with the Slayer team.

Yield: About 6 tacos
Prep time: 15 minutes to prep, plus 1 hour of marinade time
Cook time: 7-8 minutes 

Ingredients for duck tacos with orange and cabbage slaw
For the duck and marinade: 
2 duck breasts, skin on 

3 tablespoons olive or avocado oil

1 lime, juiced 

1 orange, juiced 

3-4 garlic cloves, smashed and roughly chopped

2-3 tablespoons chopped, fresh cilantro

2-3 tablespoons sliced green onion 

1 teaspoon salt

1/2  teaspoon cumin

About 2 teaspoons duck fat or high-heat cooking oil (like avocado), for cooking the duck
For the slaw:
2 cups finely chopped cabbage 

1 orange, segmented 

1/4 cup shredded carrots

1/4 cup chopped cilantro

2 green onions, sliced 

3 teaspoons mayonnaise (good quality)

3/4 teaspoon salt 

1/2 teaspoon black pepper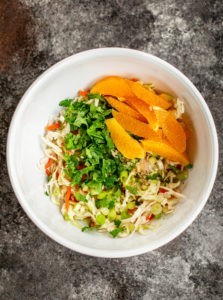 For serving: 
Tortillas of choice

Extra limes

Cilantro
How to make duck tacos with orange and cabbage slaw
Start by slicing through the skin of the duck, scoring the top of the breast. Do not cut through the meat. Then, pat the meat as dry as you can with a paper towel and set aside. 

In a bowl with a lid or a zip-top bag, combine all of the remaining marinade ingredients, except the cooking oil or duck fat, and mix together well. Add the duck into the marinade. Marinate it for at least 1 hour — but you can leave it as long as overnight. 

When you're ready to assemble the tacos, pull the duck out of the marinade. Brush off any pieces of herbs and towel dry the breasts again. Do not rinse the marinade off, but dab excess marinade so there's not much residual liquid remaining on the meat.



Heat a large skillet, preferably cast iron, over medium to medium-high heat. 

Add the duck fat or oil you're cooking your duck in. Once the oil is hot, lay the duck breast in, skin side down. 

Sear the duck for 3-4 minutes and flip when the skin is a deep golden brown all over. Cook for an additional 3-4 minutes, or until the internal temperature of the duck is about 130-133F internally. 

Remove the duck from the pan and set it aside to rest for at least 10 minutes while you assemble the slaw. 

Mix together the slaw ingredients. Toss well and set aside. 

Slice the duck against the grain into thin slices. Prepare your tortillas. I like to carefully char mine over an open flame.

Lay the meat, slaw and a bit of extra cilantro and lime juice in the tortillas and serve. Enjoy!
         
Nutrition facts: 1 taco
160 calories
6.1 g total fat
19.7 mg cholesterol
733.3 mg sodium
20.7 g carbohydrate
4.3 g sugar
7.4 g protein 
---
Meet Allie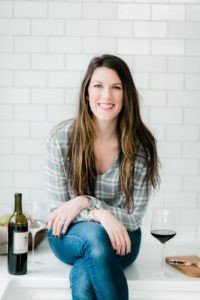 Allie Doran is an author, TV personality, wild game recipe developer and photographer residing in Pottsville, PA. She is the creator and creative director behind the popular food blog Miss Allie's Kitchen, which focuses on publishing updated comfort food recipes and inspiring others to live joyful and healthy outdoor lifestyles. She is the proud wife of an avid outdoorsman and embraces her role as "mom" with the utmost gratitude & enthusiasm. When she isn't playing outside with her daughter & black lab, hiking with the whole family, or creating new recipes, you can find her enjoying a glass of wine on the patio.