In-season turkey call maintenance: Why and how it's done
Article Written by M.D. Johnson
Featured Image by Slayer PRO, Zach Bailey
Let's just say, solely for the sake of conversation, that you've given up any and all personal hygiene practices. No reason — we'll call it a social experiment. No brushing your teeth. No combing your hair. No showers. No deodorant. Nothing. 
A week — maybe two — goes by, and you start to notice you're spending a lot of time alone. Even the cat leaves the room when you walk in. Essentially (and how do I put this nicely?) you're a mess. Why? It's due to a total lack of maintenance, and in your case, personal maintenance. 
Same with your automobile. Neglect the oil and bad things are going to happen. It's the same story whether it's your hot water heater, your checking account or something as simple as your everyday reading glasses. Maintain them, and they'll function as intended and last a whole lot longer. Neglect them, and they'll let you down … usually at the worst possible time.
Turkey calls are no different. Sure they're simple pieces of equipment, but even simple pieces of equipment need periodic maintenance to ensure they perform to their fullest potential. This month, Slayer Calls takes an in-depth look at turkey call maintenance. We've already discussed why it should be done — see above! — now it's on to the how portion of the equation.
Diaphragm turkey call maintenance
There's really not a whole lot to do with diaphragm (mouth) calls except, that is, for preventative maintenance. That includes keeping them out of the sun and extreme heat — neither of which isn't at all good for the latex reeds. 
After using my diaphragms, I'll suck the water (i.e., the spit) out from between the reeds (if they're multi-reed calls) and try to get them as dry as possible. I'll then put them in a pouch-style holder or, better yet, back into their original hard plastic clamshell case, and store them in the refrigerator until it's time to head back out. 
Some sources say to store your diaphragms in a clean plastic tin containing a thin piece of sponge sprinkled with mouthwash. "Keeps 'em fresh," they say. Truth is, the alcohol in the mouthwash can degrade the latex and shorten the life of the call itself, despite leaving a cool minty taste in your mouth. Really no decision there. 
Pot 'n peg call maintenance
Pot 'n peg (also called pot calls) are a type of friction call. They operate in much the same way as old school record players or turntables. With a turntable, a sensitive needle "reads" grooves in the surface of the vinyl record, translating those grooves and the resulting vibrations into sound. 
In the case of a pot call, the striker is the needle, which bounces over the grooves you've made in the surface of the call with your conditioning stone. Fill those grooves with any foreign materials — dirt, dust, water or even the naturally occurring oils from your hands — and your striker will "skip," causing the call to sound off. That's why turkey call maintenance — and cleanliness — is so important. 
That said, it's important to condition your pot call, as well as your striker tips, on a regular or as-needed basis when afield. I'm always careful to keep my pot calls in a separate, soft-sided zippered pouch when not in use, thus protecting them from debris. These pouches are affixed to my turkey vest itself and positioned on the left- and right-hand sides of my chest. As such, access is quick and easy, yet they stay clean, dry and protected when not in use.

Box call maintenance
While I wouldn't put box calls and eggs in the same category in terms of their durability, these great-sounding wooden calls need protection, both from the elements, as well as from dirt and grime.
Like a pot call and its zippered pouch, a box call might best be packed in its own holster, per se. A rugged Cordura nylon sleeve with a hook 'n loop closure that keeps the call handy, yet provides protection while in the field, is perfect.
Ugh! My box call got wet. Now what? DO NOT, as you might have heard, put it in the oven to dry out — not even at a low temperature. It is possible to dry a soggy box call this way. However, it's more likely you'll warp the device or, worse, crack it — thus rendering it little more than an attractive but ineffective piece of outdoor memorabilia. The best method is to set it out on the counter, away from little hands and chewing hounds, and allow it to dry slowly and at its own pace.
Box calls, like pot calls, operate using the principle of friction. And as such, those points of friction — the underside of the lid and the top of the vertical rails or the lip — need to be kept clean and lightly chalked. No sandpaper here, no matter how fine the grit; best is a small square of rough Scotch-Brite pad used sparingly. Sanding and the removal of material (wood) isn't the goal; rather, it's cleaning. So a delicate touch and an equally light coating of chalk are in order here to accomplish the right amount of turkey call maintenance.
---
Meet M.D. Johnson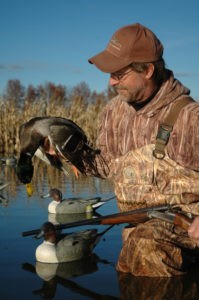 Originally from Ohio, M.D. Johnson, and his wife/business partner, Julia, spent 18 years in Iowa before relocating to her native Washington state in 2015. A full-time freelance outdoor writer since 1992, Johnson, with the photographic assistance of his wife, has authored and illustrated six full-length books, including three on waterfowl hunting. Today, The Johnsons reside in Wahkiakum County, where they both enjoy a 107-day duck season, salmon fishing, and everything the wonderful Pacific Northwest has to offer. Oh, and if you ask, M.D. will tell you he prefers 16 gauge doubles to anything else.
Read more about turkey hunting from M.D. on Slayer's Blog: